Want to bring Pat's principles to your next event?
We have speakers to meet your needs.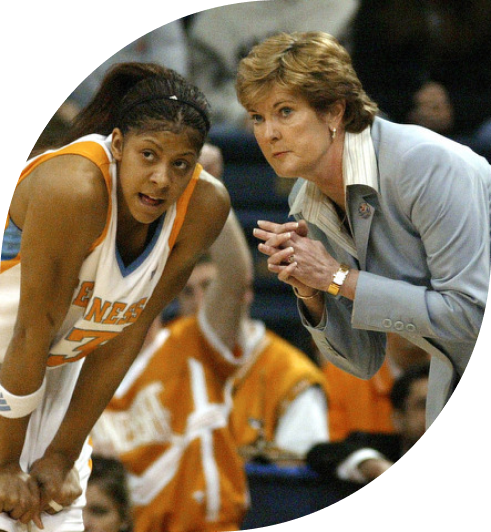 Candace played for Coach Pat Summitt and won back-to-back national championships during her time at the University of Tennessee. Candace's honors include being a two-time Final Four MVP, Associated Press "Female Athlete of the Year," Naismith College Player of the Year, two John R. Wooden Awards, WNBA Champion, WNBA All-Star and Rookie of the Year and a two-time ESPY Award Recipient.
Joan Cronan worked with Coach Pat Summitt at the University of Tennessee, where Joan served as the Women's Athletics Director. Some of her many honors include the NCAA President's Pat Summitt Award, 3-Time SEC All-Sports Award, Athletic Director of the Year, AOPI Citizen of the Year, Women's Economic Council "E" Award and the U.S. Sports Academy Sports Management Award.
For four years, under the tutelage of legendary coach Pat Summitt, Nkolika "Nicky" Anosike learned not only about the game of basketball, but also more notably, the game of life. Coach Summitt realized that Nicky would be the hardest worker she had ever coached and one of the best-ever Lady Vol leaders. Most people know Nicky as a two-time national champion at the University of Tennessee in 2007 and 2008 and a former WNBA All-Star, but her accomplishments extend well past the court. She earned the 2008 NCAA Woman of the Year award, becoming just the second college basketball player to ever do so since the award started in 1995. Nicky also has been recognized for her contributions to advancing the lessons of Pat Summitt through education. This includes her work teaching a course titled "Pat Summitt Definite Dozen Leadership," currently offered by the University of Tennessee. Nicky is a second-year PhD student and holds bachelor's and master's degrees from the University of Tennessee in Knoxville, where she currently lives with her husband and twin sons.
Let's chat about your next event.